Browse Blog
What Types Of Content Are Best For Driving Awareness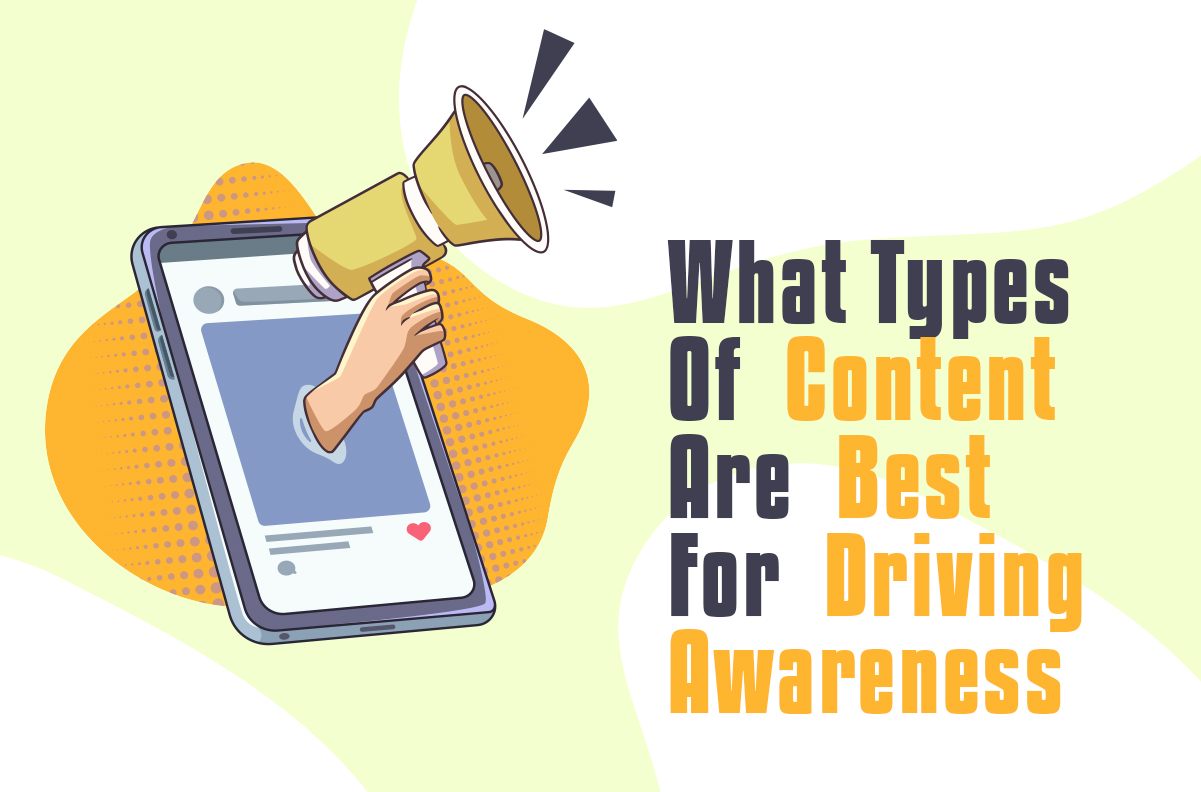 Marketing professionals and salespeople formerly prioritized advertising and cold calling above inbound marketing and content generation. That has altered as consumers gained power in the Information Age. When making a purchase decision, individuals can conduct in-depth research using a search service, and that's what they are doing.
Although many businesses desire video content for active participation, it is less effective. It is far less scannable and calls for a more considerable time investment than prospects with limited awareness are likely to make. Costs associated with early engagement marketing go up since it requires more resources to generate.
Although content is critical at every point of the buyer's journey, the awareness stage is where it matters the most. You have no hope of selling to customers if you aren't creating applicable top-of-the-funnel content to draw customers. Learn what types of content are best for driving awareness by reading below.
What is the primary role of awareness content
Creating content that draws leads and motivates them to convert into prospective customers is the ultimate aim of the awareness stage. This content aims to expose your company's goods and services to people interested in whatever you have to offer but aren't yet aware of it.
By answering their demands and queries, awareness content is intended to draw prospective consumers or clients to your site. More than one-third of B2B buyers indicate they are open to exploring vendor-authored resources in decision-making, even though they tend to draw competencies required from third-party sources for news. The most important thing is that they have to believe you to be a reliable source. Gaining that trust requires maintaining awareness level material that is customer-focused and informational instead of product-focused.
What content works best in the awareness stage
It seems to be the reason that if people are unaware of you, they can't purchase your products. But how can you make it so they can discover you? The short answer is that you direct people to you through marketing strategies for the awareness stage. Your objective is to consider what types of content are best for driving awareness to produce leads and draw in new clients.
The five content types listed below are the most effective at advancing prospects through advertising efforts.
If you are thinking about what types of content are best for driving awareness, another fundamental element of an online marketing strategy is a brand blog. This type of content is ideal for offering awareness-level material. A business blog can promote dialogues by using remarks because it is designed to be found via Google and is available without any investment or contact details.
Since they're so simple to read and comprehend, infographics are the ideal information for the awareness stage. Additionally, sharing them is simple. Informational graphics ought to provide significant facts, figures, and concepts. It resembles an outline in some ways but is a little more detailed. You could take an infographic and turn it into a lengthier type of content if you wish (or the other way around: make infographics out of a longer piece).
Another platform ideal for serving as an introduction for your company is social media, where you can contact potential clients through sponsored advertisements targeting particular demographics or via your fans' news feeds.
In particular, for retail companies, using social media to advertise promotions, new products, and bargains is acceptable (and needed). However, it's necessary to adjust the sales-oriented information with informative, inspirational, or entertaining content that strengthens your brand persona.
Case studies are yet another essential resource for corporate buyers. In the previous 12 months, 78 percent of respondents claimed they had utilized a case study to inform a purchase choice.
5. Whitepapers and reports
Whitepapers and studies with unique research might be excellent choices for internal content marketing at the awareness level. Such studies' data can be valuable to potential industry leaders and current clients. It also helps to position your business as a trustworthy information source and a market innovator.
How do I create awareness locally
It is not enough to consider what types of content are best for driving awareness when trying to generate leads. If you partner with a local news organization, you may raise the trust and legitimacy that consumers have in your firm. Seventy-four percent of the population trust the information and updates in their local paper and online editions more than almost any other publishing.
The following four suggestions will assist you in using your local news outlet to promote your company and attract new clients.
Raise awareness by often communicating with the neighborhood
Large portions of the surrounding area are reached through local news outlets and publications, and most of their members also read the magazines online. The local community would become informed of your company if you consistently feature it online or in the newspaper. If customers don't need what your business offers right now, they'll be far more likely to recall you the next moment they do and become new clients.
Improve your online visibility using their news site
We often picture the weekly printed newspaper that arrives at your house or is available to pick up at the neighborhood newsstand when we think of local newspapers. However, most local newspapers also have websites with sizable internet readerships that might aid in expanding your clientele. It is worthwhile to advertise on their news website in addition to the printed edition to increase the number of people you reach.
Reach a local audience to promote the appropriate individuals
Tell the marketing staff of a local online magazine how many visitors come to their website or how broad their audience is to determine if they are the ideal fit for your company. News outlets may use sophisticated techniques to target local audiences based on details like age, gender, and hobbies. This implies that your advertisement will target the audience you wish to reach rather than one who may not be interested in your goods or services.
Share your experience to generate interest in your company
You may assume PR is only for large companies, but ignoring it might mean losing clients. You can generate positive exposure in a local news outlet or a newspaper without a cost; you need a narrative and a media release. Consider how you might exploit upcoming events, such as a milestone or fundraising, to attract customers. Adding a contest, such as a chance to win a good or service, will encourage users to participate.
In setting the groundwork for your marketing strategy, choosing what types of content are best for driving awareness establishes your brand as a reliable source of information before a salesman even requests an order. You may increase your sales target and bottom line by producing and marketing these various types of top-of-the-funnel content to draw in worthwhile customers who will ideally complete your buyer's journey. The process doesn't end with awareness.
Back to Listings