Browse Blog
10 Ways to Boost Content Marketing for Traffic and Sales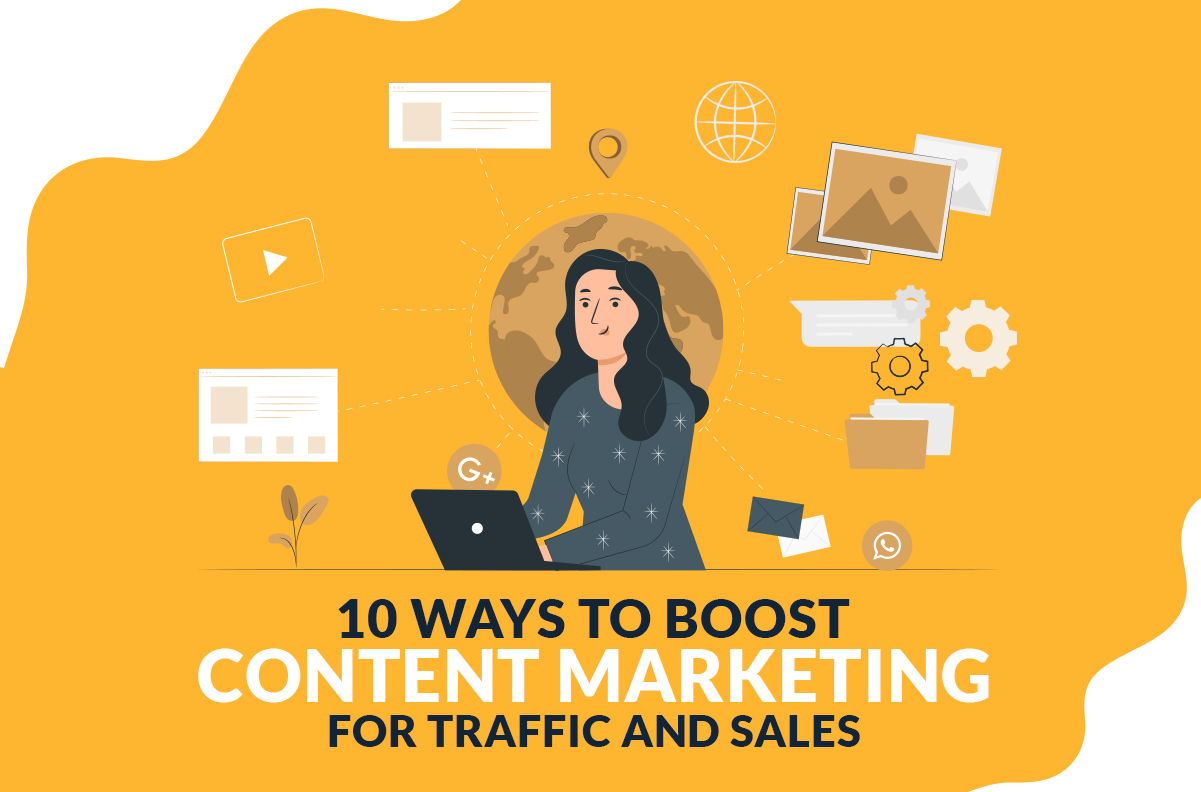 Marketing has always been an integral part of all types of business. There are hundreds of different tactics and strategies that can be used by businesses to increase their sales and traffic. One such popular strategy is content marketing.
Content marketing is a subtle but powerful way of connecting businesses with customers. Instead of promoting your products directly, content marketing uses blog posts, videos, and social media to create brand awareness.
How content marketing can drive sales
Though content marketing is not explicitly related to selling a particular product, its main aim is to drive sales. No matter what type of business you own, creating content that is relevant and can provide valuable information should be your main marketing strategy.
According to a study, content marketing generates three times more leads than any other outbound marketing method such as cold calling, print advertising, etc.

A content marketing strategy that is well thought off will generate leads, increase conversion rates, will help in establishing authority, and create brand awareness.
How can you ensure your content drives action
The ultimate goal of content marketing is to increase the sales of the business. Keeping this in mind, here are a few points that you should always remember while creating the content:
Select a specific topic
It is important to determine what should be the theme or the topic of your content. It should be aligned with your business goals and should resolve the pain points of the customers.
Provide relevant information
The goal of creating content is to provide clear and concise information that helps the customer while making decisions. Right content provides value to the customer and helps in building lasting relationships with them.
Make your content discoverable
There is no point in making high-quality content if your target audience cannot find it. By making it easily accessible you develop a reputation as an expert in your domain. Place it on social media platforms or offer links to it in your newsletter.
Create high-quality content
Content marketing strategy revolves around high-quality content. It will help in boosting sales, creating awareness, and also help in improving the website ranking. Therefore, invest more in quality than quantity.
What kind of content helps increase sales
There's no question that content marketing can be a powerful tool for driving traffic and increasing sales. But what kind of content should you be creating to get the most bang for your buck?
One approach is to create Boost Content – content marketing for traffic and sales. Boost Content typically takes the form of highly-targeted, keyword-rich articles or blog posts that are optimized for search engine ranking. By creating Boost Content and making it easily accessible on your website or blog, you can attract more visitors who are looking for exactly what you're selling.
Another effective approach is to create educational or informative content that helps potential customers learn more about your product or service.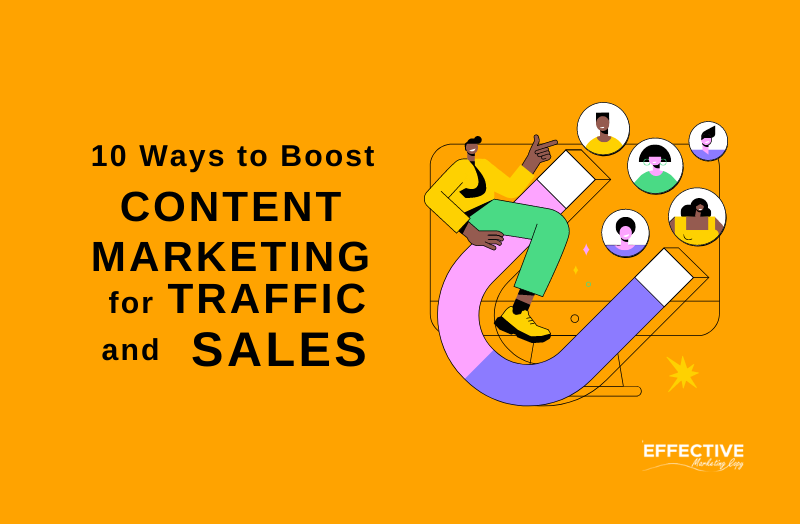 Posts
Creating blog posts, social media posts, press releases, etc is a great way of attracting people's attention. It is a great way to resolve the questions that the customers may have about your products. Answering the "how-to" question can help in grabbing the attention of the users.
Video
The visual medium is one of the best ways to connect and engage with your customers. You can add videos to your product pages or run YouTube Ads to market your product. Customers can learn about your store through these videos.
E-mails
E-mails are a great way to connect with your subscribers and customers. E-mails can help in letting the customers know about your latest product. You can also give insights and information about your organization through E-mails to make it more interesting.
Graphics
You can tell your story through good photos also. It can also help the customer to make a purchase and also helps in enhancing the search engine rankings.
Product listings
Providing valuable information about the product rather than simply listing the general information goes a long way in increasing the rankings of the website and sets you apart from the crowd.
eBooks and whitepapers
These are invaluable materials that contain statistics and information about the services and products that the customer needs.
Translation
Adding content in different languages can help in getting customers. It will also help in ranking the site on keywords in that particular language.
User-generated content
Sometimes generating user-based content is a good idea to break the monotony of one-sided content. You can come up with an innovative method to maximize user participation on your website.
Case studies
With case studies, you can show your expertise and how it has helped other businesses. It is a great way to connect with people and establish your business as an authority.
Checklists
Customers get excited if they get additional information. A checklist is a simple and easy way to generate leads and is a great content marketing tool.
Content marketing is a long-term process and takes time to yield results. It is best to periodically review and make sure that you are moving in the right direction to reach your audience organically.
If you're looking for ways to increase your website traffic and sales, content marketing is a great place to start. By producing high-quality content that's relevant to your audience, you can make sure your site is top of mind when potential customers are ready to buy.
Need help getting started? Effective Marketing Copy can assist you in creating a strategy that will work for you and drive results. Contact us today to learn more!

Back to Listings